House Warming
by Jesse Hawley and James Stanley

​PERFORMANCES AT 9:30PM ON SATURDAYS
SEPTEMBER 30, OCTOBER 7 & 14
presented as part of The Wilbury Group's New Work Development program,
Studio W
Staged as a housewarming party – with you as our guests -
House Warming
uses small talk, show and tell, parlor tricks and song to explore themes of identity, isolation, and the psychic entropy that takes hold when we close our doors to the outside world. Employing the domestic parlor theatrics of Albee's
Who's Afraid of Virginia Woolf?
and the surreal noir aesthetics of Daniel Clowes' Eightball comics, we invite you to an intimate evening of song, conversation and deconstructed realities.
PHOTOS FROM THE PRODUCTION: HOUSE WARMING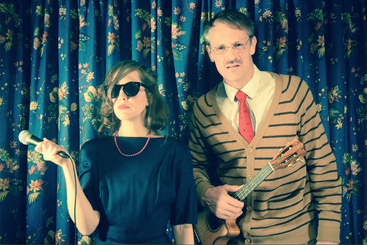 ABOUT HOUSE WARMING
House Warming is a new experiment in theater + music created by Jesse Hawley and James Stanley, multi-disciplinary artists and longtime collaborators in the groundbreaking theater collective the National Theater of the United States of America (NTUSA). Hawley and Stanley's work with the NTUSA has been hailed as "breathtaking," and "a triumph of stagecraft and style." Their design work with the company has been honored by an OBIE award and a Henry Hewes Design Award nomination. Hawley's songs have been described as "gorgeous" (TONY), "beautifully gut, wrenching" (New York Theater Review) and "excellent, plaintive expressions of rural America… songs that wouldn't be out of place on Harry Smith's 'Anthology of American Folk Music'" (New York Times).
​

ABOUT THE ARTISTS:
Jesse Hawley is a theater artist, visual artist and songwriter. She co-founded the National Theater of the United States of America (NTUSA) in 2000, and co-created and performed in all of the company's work in New York (PS122, The Kitchen, The Public Theater, The Chocolate Factory, others,) across the U.S. (The Walker Center, ICA Boston, Segerstrom Center for the Arts, Mass MoCA, others) and in Dublin, Ireland. As a designer with the company she was honored with and OBIE award (Abacus Black, 2006) and nominated for a Henry Hewes Design Award (The Golden Veil, 2012.) Jesse has written original songs for 5 NTUSA productions, most recently The Golden Veil, which featured 7 original songs which were recorded and produced by the NTUSA in a limited vinyl edition. In addition to her work with the NTUSA Jesse has worked as a performer with directors such as Richard Foreman (Paradise Hotel, Benita Canova,) Mallory Catlett (Avant-guard opera Red Fly/Blue Bottle), Ken Nintzel (Pageant, Lapse, Sonata di Camera Obscura), Juliana Francis-Kelly (Saint Latrice) and Shannon Sindelar (Gentleman's Choice.) She created a 7 panel painted installation for Young Jean Lee's Songs of the Dragons Flying to Heaven (HERE Arts in NYC, national and international tours.) Jesse is currently working on illustrations of over 50 actors for an NTUSA acting guide and treatise on acting (53rd State press, 2017).

James Stanley is a media scholar and a theater artist whose work in both fields mines the history of American popular entertainment. He is a founder and co-artistic director of the National Theater of the United States of America and has collaborated on all their work as a writer, director, designer, performer and producer. His work with the NTUSA has be recognized with an OBIE award for design, a Spalding Gray Award for theatrical innovation, the LMCC President's Award and a Henry Hewes Design Award Nomination. Outside of the company he has performed, designed or otherwise collaborated in works by Young Jean Lee (The Appeal, Straight White Men), Hal Hartley (Soon, The Girl From Monday), Richard Maxwell (Burger King, A-1 Rolling Steakhouse), Thomas Bradshaw (Strom Thurmond is Not a Racist), Yehuda Duenyas (hors-la, Brains, One Million Forgotten Moments), Phil Soltanoff (To Whom It May Concern, Strange Attractors) and many others. James currently teaches at Harvard University's programs in Theater, Dance and Media and History and Literature.
---
---
PHOTOS FROM THE WORK-IN-PROGRESS SHOWING OF HOSUE WARMING IN DECEMBER 2016 AT THE WILBURY GROUP