The Invasion of Vox Populi

a new hip-hopera by

Phoenyx Williams


directed by

Josh Short, with music by ​Matt Requintina

APRIL 13-29presented as part of The Festival of New WorksPERFORMANCE SCHEDULE

Friday April 14, 7:30pm

Thursday April 20, 7:30pm

Saturday April 29, 7:30pm

ABOUT THE INVASION OF VOX POPULI

In a distant future where Earth has been destroyed and its inhabitants have been forced to live in what remains, the evil powers that be have used their wealth, greed, and influence to manipulate the remaining beings. One such way is through the creation of the "Universal Mainstage," an intergalactic music venue that also serves as a medium to transmit messages of mass manipulation. Our hero, Vox Populi, intends to infiltrate this establishment so that truth and justice would be allowed to permeate the minds of the living. By enlisting the knowledge of his fellow MCs and a little help from an influential DJ, Vox is able to carry out his plan and destroys the Bad Rappers and topples the evil promoter while spreading insight to truth, justice, and the importance of wisdom and knowledge.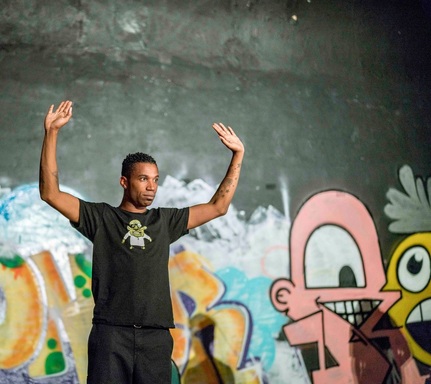 ARTIST STATEMENT
"Hip Hop is not just what we do through an element, it's a lifestyle for People of Color and Poverty that teaches us Value, Empowerment, Confidence, and Awareness through the Culture.."

My art displays a passion for being an example for all young people yet specifically at risk youth of color. The example I wish to portray is that of a patient overcomer despite what situations may arises in life. Through my art I am able to educate the word in a unique and poignant way.

I work at the Wilbury Theatre because the Wilbury Group actively pursues artists with a passion for the arts as well as community service. Their approach to nontraditional theater and my unorthodox approach to performing is a perfect match. I prefer the contemporary theatre movement over the traditional houses because the contemporary theater provides an opportunity for my individualism to be placed on display and is appreciated.

​
ABOUT THE ARTIST, PHOENYX WILLIAMS
Phoenyx Williams is an MC and wordsmith most known for his work as a solo artist on the underground hip hop scene. He is also known for his multitude of characters, puppets, and impersonations as a member of the intergalactic space funk band Big Nazo;. At The Wilbury Group he's been in productions of Passing Strange, Ui [oo-ey], and can be seen in the Spring 2017 production of Mr. Burns, a post-electric play. He resides in Providence with Shannon Rose Raymond, their two children and precious pup Peppa.
---