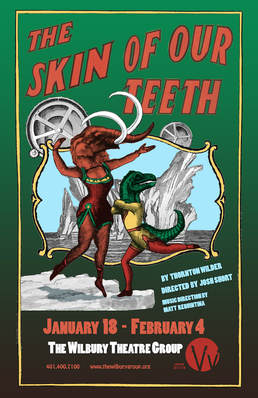 ABOUT THE SKIN OF OUR TEETH (
Read the press release.)
​Meet George and Maggie Antrobus of Excelsior, New Jersey, a suburban, commuter-town couple (married for 5,000 years), who bear more than a casual resemblance to that first husband and wife, Adam and Eve: the two Antrobus children, Gladys (perfect in every way, of course) and Henry (who likes to throw rocks and was formerly known as Cain); and their garrulous maid, Sabina (the eternal seductress). Whether he is inventing the alphabet or merely saving the world from apocalypse, George and his redoubtable family somehow manage to survive – by the skin of their teeth.
​
Completed by the author less than a month after the Japanese attack on Pearl Harbor on December 7, 1941,
The Skin of Our Teeth
(1942) broke from established theatrical conventions and walked off with the 1943 Pulitzer Prize for Drama. Combining farce, burlesque, satire, and elements of the comic strip, Thornton Wilder depicts an Everyman Family as it narrowly escapes one end-of-the-world disaster after another, from the Ice Age to flood to war.
"Wonderfully wise...A tremendously exciting and profound stage fable." --
Herald Tribune
"Always theatrical and absorbing...
As it is one of the most original American plays ever written and may have introduced Brecht, Pirandello and James Joyce to the New York stage in a home-grown native style, it must be seen. Wilder's history of the human race covering The Ice Age, The Flood, and World War II proves to be topical all over again with its talk of climate change and refugees almost as though it weren't 75 years old." -- The New Yorker
"
Extraordinarily good...one of the finest American plays of the 20th century, a modern classic that ought to be seen as often as
Our Town
." -
Wall Street Journal
"For an American dramatist, all roads lead back to Thornton Wilder...The Skin of Our Teeth is a remarkable gift to an America entrenched in catastrophe, a tribute to the trait of human endurance." -- Paula Vogel, Foreword,
The Skin of Our Teeth
---
The Skin of Our Teeth
By Thornton Wilder
Directed by Josh Short

Music by Matt Requintina
Costume Design by Meg Donnelly
Light/Sound Design by ​Andy Russ
Scenic Design by Keri King

Technical Direction by Justin Carroll
Assistant Dirs. Meredith Healy & Logan Serabian
Production Assistant Jessie March
Assistant Stage Management by Elizabeth Craig
Stage Management by Paul Trinh
TICKETS NOW AVAILABLE
SAVE ON TICKETS TO OUR 2017/18 SEASON WITH A SEASON MEMBERSHIP. LEARN MORE.